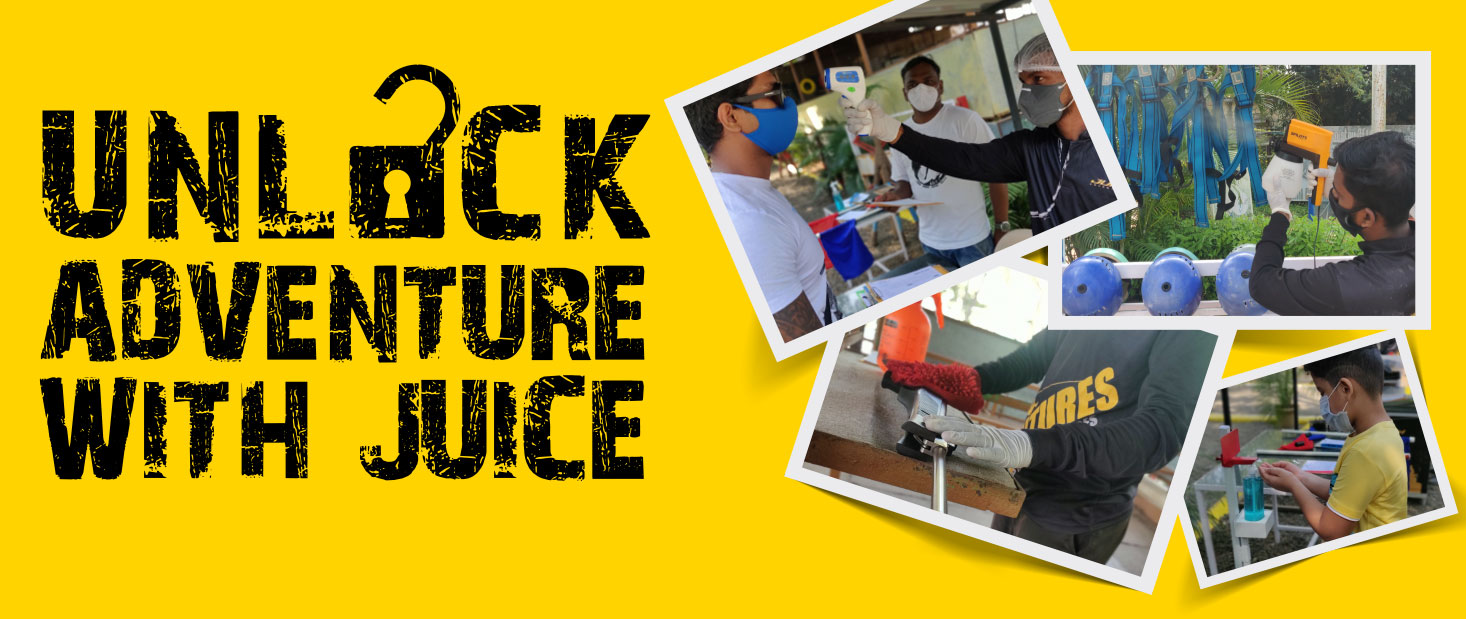 NOW WITH ALL THE SAFETY MEASURES.
Masks & Gloves worn by all Team Members always.
Temperature Readings of everyone are taken at the entrance.
All Activities & Equipment are sanitized regularly.
Reduced Capacity (40 guests only) to maintain appropriate Social Distancing & to create an effective Bio Bubble.
Activities & Seating Area reconfigured to ensure safe distance.
All Staff Members trained for COVID-19 Safety Measures and Protocols.
GUESTS ARE EXPECTED TO FILL A COVID-19 WAIVER FORM ON ARRIVAL AS PER THE NEW GOVT. POLICY.
GET LOST
GET LOST
jUICE ADVENTUREs


Say Yes To New Adventures
JUICE


ADVENTURES
MUMBAI'S FIRST ADVENTURE AND RECREATIONAL SPORTS RESORT.
TEAMS DAY OUT at JUICE is a great way to reward your Staff in a Fun, Relaxing and Exciting Atmosphere. We pride ourselves in offering a range of Activities in one easily accessible Location with differing levels of Adrenaline to suit a wide variety of People.
What Do We Offer

Adventure Activities For All Ages.
Team Building Activities That Help Build Great Teams.

Delicious Buffet Meals.

Back To Childhood Games For The Child In Each One Of Us.
Complimentary Water Park Access.

Overnight Accommodation For Comfort Stays.
JUICE


Edu-Ventures
ADVENTURES WITH A TWIST! LEARNING WAS NEVER SO MUCH FUN.
School Trips at Juice, one of the most unique outdoor adventure centers in Mumbai, promise a fully trained, experienced staff, wide range of outdoor pursuits and an eco-friendly environment that provides the perfect backdrop for an exciting day out of the Classroom.
JUICE


on wheels
SERVING FUN AND EXPERIENCES AT YOUR DOORSTEP! NOW THAT'S KICKASS.
Everyone is tired of conventional events and wants to try something different for a change. What better way than Sports! Juice on Wheels is a complete Recreational and Adventure Sports company taking the entire sporting experience on wheels.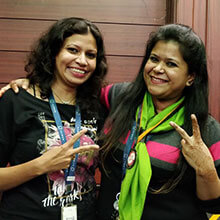 This was the first time our employees were having such an event. The team building activities were full of fun & ensured participation from each team member. They were created with a purpose & it was a good experience overall & we look forward to having such events with your team in the future. Thank you!
Dhanshree M
Ocwen Financial Solutions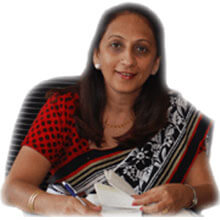 Happiness doesn't obey the law of mathematics. When you start dividing happiness with others it actually multiplies. Regan you and your Team helped us immensely to multiply the happiness. Deeply appreciate your Teams efforts and wholehearted commitment. Thank you for making our Children's Day Celebration one of the most memorable ones.
Mrs. Roshan Patel
(Principal)Ryewood International School
Twenty years from now you will be more disappointed by the things you didn't do than by the ones you did do. Moms bouncing with child-like enthusiasm. Life begins now. Mom-Kiddo bonding! Mom-Mom bonding! Bacha-Bacha bonding! Ultimate Fun with School Group. Love u Juice Adventures!
Anita Agarwal-Bajaj
Excellent place for corporates to take their teams out for a day of fun, games and adventure sports. The hosts were friendly, the food was good and my entire team loved the time spent.
Suraj Jariwala
at Juice Safety Comes First!
We Maintain The Highest Levels Of Health and Safety Standards And Offer Super Fun Recreational adventure Sports activities. Join Us to Experience a Surge Of amazing adrenaline With Our adventure activities.